Nov. 15th, 2018 –Torque DRIFT, a new Triple-AAA quality multi-player physics drift game announces its successful launch for both Android and IOS.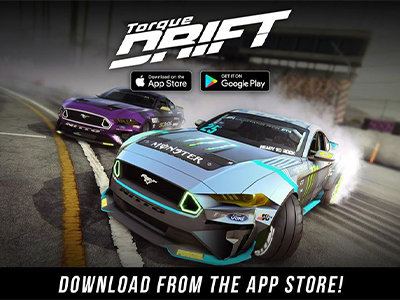 The new esports game is produced by Grease Monkey Games, an independent game development studio based in Melbourne Australia. The studio is only releasing roughly 15% of the game at the initial release with planned updates coming monthly. Torque DRIFT is a fully customizable new-age drifter game with licensed car manufacturers, real aftermarket part brands and real professional drivers from around the world. It allows for unprecedented fine tuning and customization to each aspect of your car, just like in real life, the game players build their cars and fine tune them for each track and battle.
The game is structured around it's upcoming Tournament Mode (soon to be released) where players from around the world will compete in FormulaDrift style knock out Tournaments with their fully tuned and custom-built drift cars.
"We are really happy with the release of Torque Drift, it did exactly what we expected it to and the initial feedback and requests were massive, we will take all the feedback and adopt it into the future updates," said Arran Potter, Director at Grease Monkey Games. "We wanted to take out parts of the automatic steering that is seen in other drift games and give the user fully capability of setting up their cars the way they want. This also makes it more challenging for some users, but we wanted to allow for these fine-tuning adjustments because this is what the drivers have access to in real life and this will also play a major factor in the Tournaments. We wanted to try and capture the real drift scene as much as possible in a mobile phone game app and this means setting up the cars properly."
Torque DRIFT will also be released on PC and Console late 2019 and will also roll out a number of innovative and unique brand experiences for some of its major partners and manufacturers.
About Grease Monkey Games
Grease Monkey Games is a video game development studio with a proven track record of creating ultra-polished motorsports titles for a passionate audience. Like our players, we are driven by a love of cars and motorsport culture, and it is our mission to design innovative platforms of play which provide accessible and fun game experiences to all automotive and motorsport enthusiasts. For more information on Grease Monkey Games, Torque Drift, and Torque Burnout please visit: www.greasemonkeygames.com